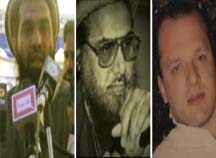 Till date, you seen David Headley -a suspected terrorist for Mumbai attack(26/11) at rough photo from his passport zerox. from many days, actually from many months David Hadley got lot of headlines, but ever never we god the real picture of this terrorist. no any media whether it is electronics, or print have his image. all are showing his rough photo till.
but now Indian News channel finally revealed his real photo. if you want to see David Headley's real photo then go to NDTV India or NDTV 24*7 official site.
who is David Headley ?
David headly is the suspected terrorist for Mumbai Attack last year. many times he came to India, but Indian agency totally fail to catch him. he caught by American intelligence agency FBI (Federation Buero of Investigation) last year, and by that time he is in under inquiry remind. Indian media claim that, David was secret agent of CIA so US not want to give him to India. he is also suspected for relation with Al- quida.